Want a quick and easy way to gain Facebook Likes from people that will most likely follow you? Then keep reading. We've got quick tip to share!
Go to one of your facebook posts that your readers had reacted with an emoji –> You'll see a list of readers that reacted –> Click the "Invite" button next to the ones that haven't followed you, yet. And voilà!  It's sooo simple that even my anti-technology grandma can do it!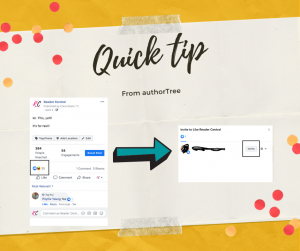 Why this works?
These fabulous readers had already been introduced to you and took the time to comment and/or liked your post. This puts you at an advantage, because the reader already 'knows' you and are more likely to follow you with a little nudge. So take that extra step and invite them to like your page!
If you're someone that isn't very active on Facebook no worries because authorTree is here to help! We run monthly promotions for authors to help them gain followers not only on social media, but also gain GDPR compliant Newsletter subscribers! Be sure to check out Author Services page for more information.
Did you like our "Easy Way To Gain Facebook Likes" tip? Want more? Check out the rest of our blog posts or follow us on Facebook & Instagram and subscribe to our Newsletter!